[ICO] Konios - The gateway for global safe transactions.

Today, more and more people are choosing cryptocurrencies as a profitable investment channel, a series of crypto-related services, while blockchain technology is leaching to every industry. Essential requirements are a place to protect your assets safely while maintaining good liquidity. If you choose offline, higher levels of security mean that the transaction is difficult, and transactions with poor security may leave you unmotivated (Mr GOX - 2014, Coincheck - 2018). ), whether anyone can guarantee these factors and fully meet the needs of users.
I will join you in Switzerland where one of the safest banking systems in the world, we will meet with Konios and witness the greatness they introduce.
When difficulties in converting electronic assets disappear
Konios wants to make anyone accessible to the crypto world. It does not mean that there are not any existing platforms that are trying to do the same thing, but like everything else, Konios wants to address the three core issues that earlier platforms faced: Simplification User experience, Personal information security and Expensive transaction costs.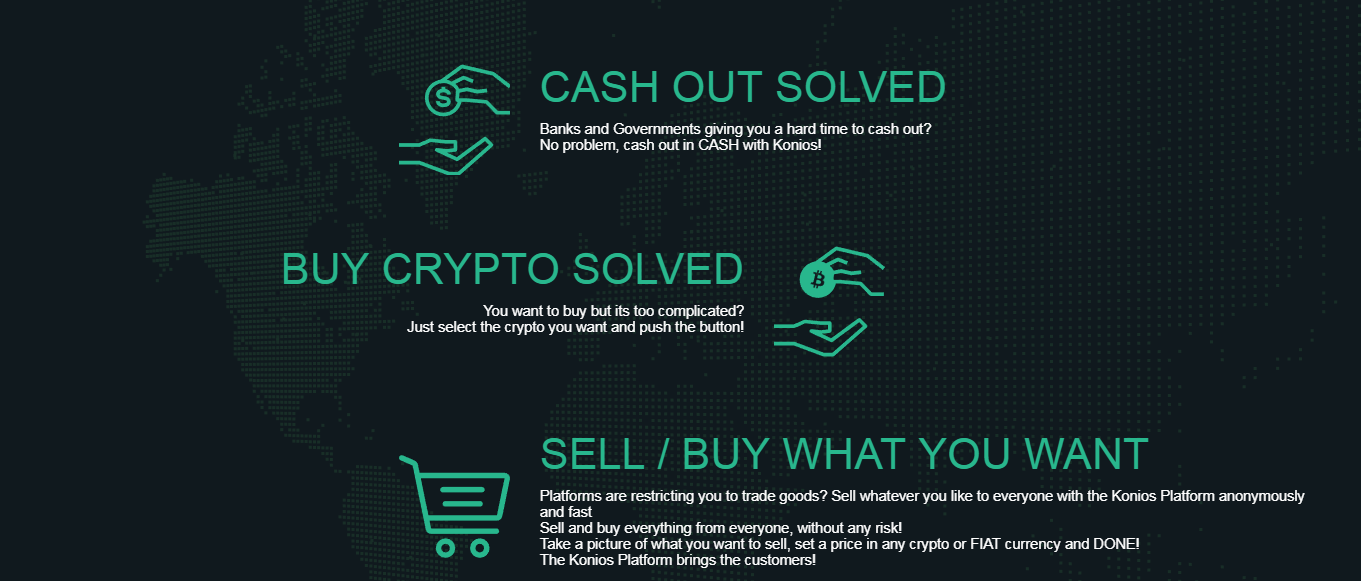 Presence and demand for cryptography nowadays require simpler management, so that the community and the public, regardless of social class, can be inserted in a sensitive, simple and secure way. Understanding that, Konios also with their system summed up all the steps in the transaction process in four clicks.
Another great thing is that the system deals directly with the local currency through their KON tokens, so you can easily switch your assets at any time. You will receive excellent information security guarantees, as the way the Swiss banking system has shown so far.
And the third issue is the transaction cost, Konios offers a transaction method called Face-to-Face (F2F) to tackle high transaction costs by eliminating intermediaries. Buying and selling needs will be displayed on the Konios platform and two people directly deal with each other, cash is transferred to the seller by the buyer and confirmed by both parties. Of course, all bad guys with fraudulent schemes will be marked on the system's public ledger.

It also offers services like selling goods in cryptos or fiat, earning cryptos or fiat by boosting your business in the Konois Platform, this sounds great, everyone in the crypto world now has the opportunity Shop online using cryptos whenever they want.
Indispensable, good human beings:
The development team of the project with many years of experience in the field of cryo investment as well as related fields such as services, economics and advertising services focus on a common ideal, this will ensure a potential project.
Mikel Krasniqi
FOUNDER - CTO
Founded his first start-up at age of 18. A strong sense of innovation and their further usability. Full Stack Developer 6 years of experience in Software development. Active as a developer at BMW Finance in the area of Payment processing.
Patrik Krasnic
FOUNDER - CEO
Entrepreneur and founder in the e-commerce sector. 7 years experience in the field of e-commerce and sales development. Has extensive practical knowledge in the implementation of IT platforms and product placement.

About KON token:


Information about …
Success comes from ideas, starting with enthusiastic people and flying high by the whole community
-Author: Hoangvuhk3110
-Link Bitcointalk: https://bitcointalk.org/index.php?action=profile;u=1805177