[ANN] MoneyToken - Paving the way for global payments

How's it going my friends? I just saw this interesting quote "You must gain control over your money or the lack of it will forever control you" and I think I need to share with you about this very helpful project called "MoneyToken". It may save your life in case you want to buy a pizza but all you have is just BTC and ETH. Well "a pizza" here is just a symbolic image. It can be new equipment to buy, it can be bills to pay, it can be short term business needs, and so on. Of course you can always sell your crypto for fiat but at the same time, you lose your investment opportunity when liquidating such valuable assets like ETH and BTC which may grow in value in the future. MoneyToken is here for you.
Paving the way for global payments
Basically, MoneyToken is the place where you can meet Amanda - an Artificial Intelligence Assistant that provides human-like services. She will help you to borrow money as you leave your BTC or/and ETH as a collateral. (More currencies will be accepted in the future) Amanda will give you back your collateral after you pay all the loan, even if the value of the collateral has grown.

Sweet! What if the value of BTC/ETH go down? That's a good question. I didn't have the chance to ask Amanda about this but MoneyToken has a Stop Loss mechanism that can be triggered automatically in case of the fall of the collateral. There are also some more actions you may want to do before the automated Stop Loss occurs and please refer to the Whitepaper for that. Apart from lending you the money, Amanda can also help you to buy or sell cryptocurrencies or fiat in MoneyToken Exchange. In the second phase of the project, our virtual assistant will be able to help us lend out the money. With the support of Amanda, you totally can expect a pleasant banking experience with MoneyToken.

There's an interesting fact that the platform is not entirely decentralized at its first phase. The reason is MoneyToken will use Ethereum-based smart contracts to make the deals and these contracts are actually not that "smart". They can only control the agreement in which ETH is used. If you bring BTC or BTH to the game, they just don't function probably. Also, smart contracts must be activated manually. They don't have the ability to independently control the deal like many people thought. Luckily, the creators of MoneyToken have come up with the solution of multi-signature wallets which require 3 over 4 signatures to access. 1 signature of the Borrower, 1 of the Lender and 2 owned by MoneyToken service. Doing this way, none of the parties can take the fund and the trust problem is solved.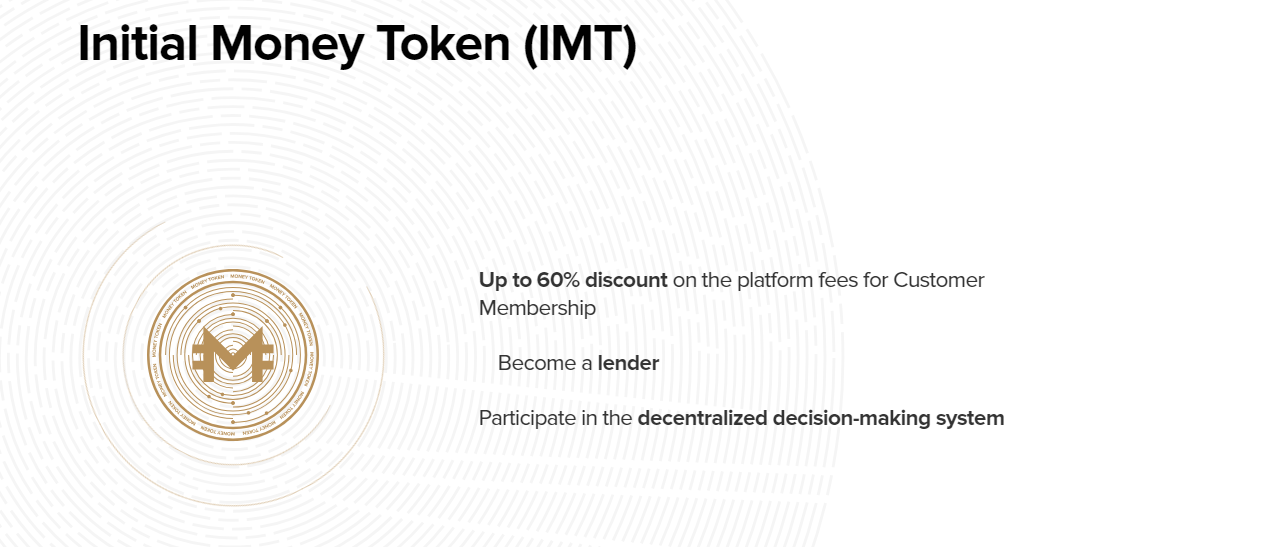 When you are reading this post, the IMT token sale of MoneyToken has already begun. You should hurry up to be able to get the 20% bonus before the fund reaches 10 million USD. Also, the price will be 10 times higher if you come later than June 6. The token can not only be a great investment but also get you Borrower/Lender Membership which brings a lot of good deal when using the service. People who own IMT token also can participate in decentralized voting. Good luck!
Information about …
- Website: https://moneytoken.com/
- Whitepaper: https://moneytoken.com/doc/MoneyTokenWP_ENG.pdf
 -Telegram: https://t.me/moneytoken
 -Twitter: https://twitter.com/MoneyToken
- Facebook: https://www.facebook.com/MoneyTokenOfficial/
— — — — — — — — — — — — — — — — — — — — — — — — — — — — —
Success comes from ideas, starting with enthusiastic people and flying high by the whole community
-Author: Hoangvuhk3110
-Link Bitcointalk: https://bitcointalk.org/index.php?action=profile;u=1805177