1tUS: stable coin with transparency

The innovation of bitcoin has lead to the great acceptability of cryptocurrency all thanks to blockchain technology. The whole global community now carry out their transaction process via blockchain, a speedy reliable and secure way of transacting. The innovation of cryptocurreny has not only brought about that but has also emerged different investment opportunities via cryptocurrency based on blockchain technology. Nowadays we will fid all kinds of investment opportunities platform offering benefits of project they aim to accomplish and giving benefits to attract investors to invest by buying their investment token during the initial coin offering. This has lead to the generation of different kinds of crypto currency called tokens bought during the initial coin offering or via exchangers. Exchangers also serves as a means of converting the token cryptocurrencies to fiat currencies at a high rate of exchange charged by the platform and doesn't serve as a fast means of conversion process. With this, investors are challenged about the process of using the cryptocurrency which as volatile because the value of the cryptocurrency keeps fluctuating every nano second, looking for a cheap and fast way to go about converting their cryptocurrencies to fiat currencies and vice versal and finally a means of sending the crpto coin to whatever destination desired. All these make up the challenges faced by crypto currencies holder and investors in the cryptoworld and all these account for lack of transaction transparency. This has lead to the innovation of the 1tUS, a stable coin that has a value equal to $1. With this innovation there would be no great volatility sin the value of the 1tUS coin and also enable a value for buying and selling value neglecting variation properties exhibited by other cryptocurrencies in the process of using exchangers at high charges. With 1tUS coin, the value of the coin gets fixed over different platform and exchangers, also means no value depreciation or variation like other crypto currency coins and aid in the conversion of 1tUS coin to fiat currencies.
The token sale will be in three phases attracting different profit sharing, enabling different variation to profit sharing which is determined by when the token is bought among the three stages of token sale.

The platform will assign 5% of 1tUS profits to social project and initiatives I believe with the innovation of 1tUS coin that values to $1, this will bring about more acceptance of cryptocurrencies globally and a better means to make use for other things such as buying and selling and domestic activities couple with a non-volatility giving it a standard value in every exchanger.
GET YOU 1Tus coins now.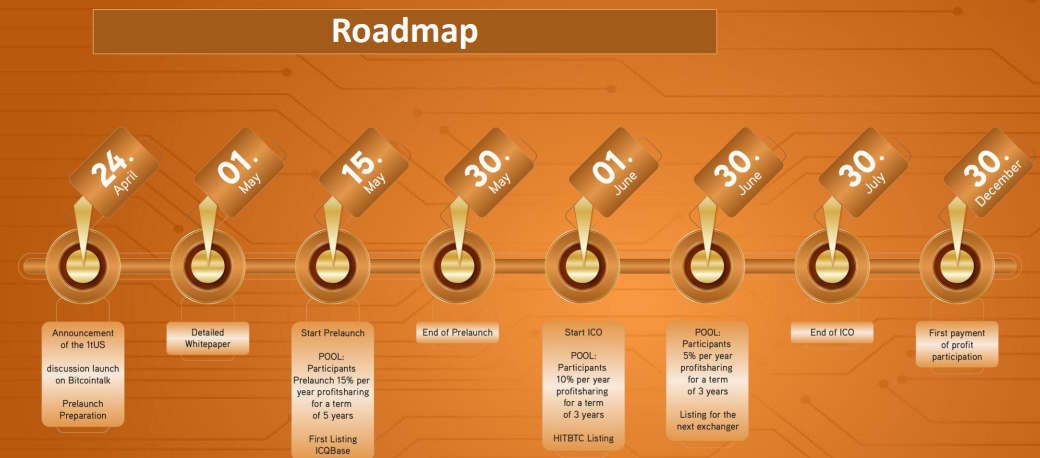 Team
Gabriele Mueller: CEO
Silvio Steffens: Live moderator
Oliver Senf: Video cutting
Julia Knospe: Translations
Patrick Frick: Design
Advisor
Janos Nemeth
Andre Lindig
Caterina Ferrara
For more information about 1tUS coin, kindly click on any of the links below
Telegram: https://t.me/Coin1tUS
Facebook: https://www.facebook.com/1tUSCoin/
Twitter: https://twitter.com/1tUSCoin
White paper: https://www.1tus.io/cms/wp-content/uploads/2018/06/1tUS-COIN_Praesentation1-1.8_EN.pdf
Website: https://1tus.io/
Instagram: https://www.instagram.com/1tuscoins/
Bitcointalk ANN: https://bitcointalk.org/index.php?topic=4316944/
Youtube: https://www.youtube.com/channel/UCIJMXVm3bqn5SK9PvGXxqkQ
Medium: https://medium.com/@1tuscoin/
Reddit: https://www.reddit.com/user/1apayment/
email: [email protected]
My Bitcointalk profile: https://bitcointalk.org/index.php?action=profile;u=1920725